Index Page
The Covid 19 pandemic forced schools across the country to close in March to help stop the spread of the virus. The Senior Leadership Team at Hutchesons' immediately began planning how the school could continue to best provide the excellent education it is known for in an online environment.
Our online teaching pedagogy takes into account four key factors.
The availability of IT equipment
The need for consistency and structure
Flexibility in learning style
The availability of pastoral support for pupils and support for parents
The School has adopted a semi-structured school day approach for the Hutchie At Home experience as the Senior Leadership Team believes recreating a timetable of fully 'live' classes is undesirable and unrealistic. Every pupil's home environment is unique and therefore we wanted to offer families a degree of flexibility. We did not want to increase stress levels during an already very worrying time. Two weeks after the lockdown began we surveyed our Senior pupils to get feedback on our online teaching provision. Overall, the majority of pupils in both the S1 and S2 group and the S3 and S4 group found their experience to be good, very good or excellent. They particularly liked the feedback that they had received, the variety of tasks and, in particular, the reassurance of their teacher's voice, following the structure of the daily timetable – but also (particularly for the older group) the flexibility to depart from it.
Delivering lessons
Prior to closure our staff and pupils used Firefly to set and complete homework tasks and because they were already familiar with this educational software it was decided this would be the main platform used to deliver our online teaching provision.
How does it work
Staff upload teaching materials and a description to Firefly and set a 'due by' date.  This can take the form of tasks, blogs, video chat, video clips and much more. Pupils are usually given several days in which to complete the set tasks and submit for marking and feedback. Pupils have been encouraged, where possible, to complete any allocated work on the day they would normally have the class. They can, of course, follow their school timetable if that suits.  The extended 'due by' date offers flexibility to those pupils who may not be able to access computers at a specific time of the day. With many parents also working from home there is increased pressure on WiFi and devices.
Teaching materials
Our staff have been developing their own skill set to create engaging and informative content for pupils. The sudden transition to an online environment has been a learning curve for our staff too and they have risen to the challenge creating a mix of video, audio and animated powerpoint lessons. We are also using Microsoft Teams as a way to maintain connection with pupils and classes. This facility allows us to meet in small groups to introduce topics, to discuss areas of learning, work through any difficulties or concerns as well as monitoring the level and volume of material being set and required.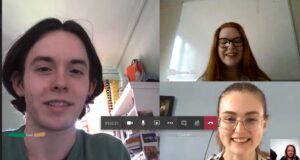 Pastoral care
The Covid 19 lockdown has been an adjustment for everyone and increased feelings of isolation are normal. It is therefore even more important our pastoral staff are available to support our pupils should they be finding the current situation particularly difficult. At Hutchesons' we have a strong pastoral care provision. Each year group has a Year Tutor and two Assistant Year Tutors available to support pupils. Pastoral staff can be contacted by email and are on hand to help through phone call, email or by using the Microsoft Teams platform. We are checking in with our pupils every day informally but we will continue to carry out wellbeing ('Happy Hutchie') surveys  every  two weeks. The feedback indicates that the majority of our pupils are handling the transition to the online learning environment well. They also know who to contact if they need extra support. Our pupils have a Covid19 pastoral support resource – all the links, support and organisations which can help them can be found in one place, for ease of access, and this is updated regularly.
Learning support
Pupils who require learning support may find the transition to online learning more challenging. Our Learning Support staff are available to offer one-to-one support to pupils and parents to make online learning more manageable. This can be arranged initially by contacting the Year team.
Video guides
A range of informative video guides have been created by our Computer Services Department showing step-by step information on what tools are available to the pupils, how to access them and also provide helpful hints for best use. Through the school, all pupils have free access to the Microsoft suite of applications through the Firefly platform.  Our CSD experts are always on hand and available to answer any technical questions via the email helpdesk.
What our pupils say
"I like it when the teacher either sends in a video of them speaking on their camera or if they are speaking over a whiteboard explaining what we should be doing. I feel like that has really helped me focus and understand the work more." –  David, S1

"In physics, our teacher filmed a whole video demonstrating what we had to do and the different ways to do it. This was the easiest thing to follow." – Lucy, S2

"I like how in maths, Miss Ramsay has being doing video lessons of her showing us new topics and examples. I found this really helpful. – Cameron,S2

"I found Microsoft Teams very useful as I could very easily ask my teacher a question and I also found that class discussions were very helpful as it made me feel as if I was in a classroom which helped me work a lot better."– Rojilin, S2

"I liked using Teams as a resource for graphic communication work as I feel over the past fortnight that I have got a lot more done in graphics by working individually and not constantly needing help or having to keep up with the class." –  Andrew, S3

"For history, Mrs Stewart posted a video of her going through the answers on a word document and this was very useful." – Erin, S4