Earlier this year one of our senior pupils, Daniel, was diagnosed with a rare form of brain tumour. He and his family are being supported by the charity 'Funding Neuro' and are campaigning for more research into childhood brain cancers.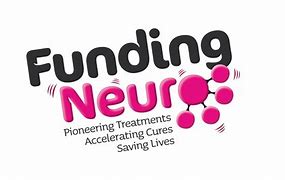 Funding Neuro hopes to begin a clinical trial within the next year to treat 18 children with DIPG/DMG. This trial and others like it will not only give real hope to many suffering from this type of tumour, it will also support vital research into a largely untouched area of childhood cancer, improving the outcome for many more.
This session Hutchesons' will be supporting Funding Neuro as our school charity. Funding Neuro is a Glasgow based charity that funds research and aims to accelerate the development of new treatments for the most serious neurological conditions. More details can be found on their website : https://www.fundingneuro.com/
Due to Covid restrictions we are unable to hold many of our usual fundraising events so we are hosting an online Christmas raffle with lots of great prizes up for grabs. Thank you to all the parents and local businesses who kindly donated. For every £5 donated using the online form below your name will go in the raffle box once.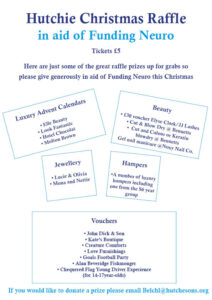 Other fundraising events to date include:
The S5 and S6 pupils held a pay-per-view football match and auction at Hamilton Accies stadium last month and raised £62,000.
We have also started selling Hutchie facemasks to pupils, staff and former pupils with all profits going to the charity.
Our English Department organised an online 90 minute treasure hunt on Sunday, November and raised £2,600
Pop back regularly to find out about more exciting events happening soon.
---
If you would like to make a donation to Funding Neuro please complete the form below.